In order to view our shop, please ACCEPT COOKIES. If you have rejected cookies, please clear your browsing history for this site and refresh to accept the cookies.

Due to Brexit and Covid-19, there may be additional delays in processing some orders – Learn More
Leathercraft
Leather:
All items (except for the belts & collars) are made from Italian "Country Cow" Full Grain Waxy Pull Up Leather - this is untreated, uncorrected, 100% animal hide. It is a heavyweight leather, tanned within Europe on heavy Ox hides to 'Reach' standards. Widely known as a 'Crazy Horse' type of leather. The animals are reared in temperate zones, and we are assured that the welfare of the animals is always kept within the legislation governing good farming and environmental practices.
Full-Grain leather will wear in nicely over time, developing a patina. It is very soft to the touch but still tough. It's important to note that this leather will not have a uniform look and will have marks and scratches because the surface has been subjected to a lifetime out on the range.

We have two 'weights' available to us; 1.2mm-1.4mm and 2.0mm-2.2mm. It might not sound like much of a difference but in the Leather world, it is! The thicker leather is great for MOST of our Leathercrafts, but if you'd like a Leathercraft that has more than 2 layers of Leather, we have to use the thinner leather otherwise the craft is way too thick! We have 12 colours available in the 1mm leather and 16 colours available in the 2mm leather.

Our belt and collar range is made from a slightly different, yet equally beautiful leather.

Our natural colours are made from "Lyveden Waxy" 100% rustic leather, it is 2.8-3mm thick and full of character. It has a waxy, natural surface with a pull-up, which means that the leather becomes a lighter colour when bent or scratched, giving it a casual, weathered style. Vegetable-tanned and dyed with non-toxic water-based dyes.

Our bright colours are made from "Lamport" Leather, full-grain beautifully aniline coloured and finished shoulder showing some natural growth and character, dyed-through and coloured both sides with a slightly waxy feel. The approximate thickness is 2.8-3mm.

There are currently 13 colour options from the Waxy Pull Up Range and 12 colours from the Belt & Collar Range.
If you are looking for perfection in a leather item, our leather range is not for you. You should look for "corrected leather".
Threads and Hardware:
We also have a huge selection of high quality waxed Threads and Hardware options available. You will be able to customise your products on each of the product listings where available.





Personalisation:
We have a couple of options available for personalising your Leather goods;









1. Stamping - We have TWO sets of Stamps; a Traditional Sans Font (alphabet only) and a Modern Font (alpha-numeric). These are great for adding that special little touch, whether it be Initials, a Name, or a small quote/date. All items where personalisation is available will give you options.

Please note: Stamping is a relatively permanent process, but the indents can fade a little over time, especially in regularly used products.

Please note: all lettering is hand stamped which is incredibly hard to get "perfect". If you are looking for perfection, please consider the Engraving option below.












2. Laser Engraving - this is brand new to DD Practical. We recently invested in a portable Laser Engraver and it's brilliant! We can now engrave pretty much ANYTHING up to a maximum of 10cm x 10cm. Unlike Stamping, Laser engraving is a far more permanent option.

There will be an additional cost for Laser Engraving on your products:
- a name or initials (text only) + £3.00
- an image up to 5x5cm + £5.00
- an image up to 7.5x7.5cm + £7.50
- an image up to 10x10cm + £10.00
Please note: once a Leathercraft has been engraved, there will be a slightly burnt smell to begin with. This is entirely normal as we have effectively burnt skin. We think it adds more character to the product. The smell will subside with time.
We cannot accept returns on personalised goods unless they are faulty. If you have any issues, please get in touch and we'll do everything we can to assist you.
If you see something you like the look of but want to change something about it, or change dimensions or design, please don't hesitate to get in touch to discuss your requirements and we can create a custom order for you.

90% of our leather orders are custom so there will be lots of designs that have been made that never make it to the shop!

If you have any questions, please feel free to check out FAQs and if that doesn't provide an answer, pop us a message or give us a call.


Featured Products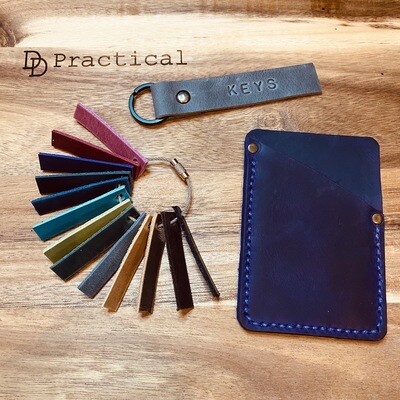 Practical Leather Sampler
Practical Leather Sampler
Ready to Dispatch in 5-7 business days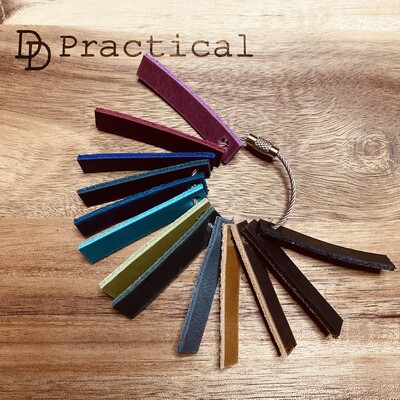 Practical Leather Colour Swatch Samples
Practical Leather Colour Swatch Samples
Ready to Dispatch in 2-3 days